Meet the people who run the club
Sensei Kavita (she/her) started training in Shorinji Kempo in Jan 2004.
She has trained around the world (Japan, Canada, Ireland, India, and Spain) but the primary location of her training has always been Imperial College Shorinji Kempo where she is an assistant instructor.
In Dec 2023 she gained a 4th Dan (4th-level black belt). She is DBS checked, completed the Safeguarding Children in Sport qualification and First Aid certified.
Kavita co-founded the Camden club and is our official Branch Master.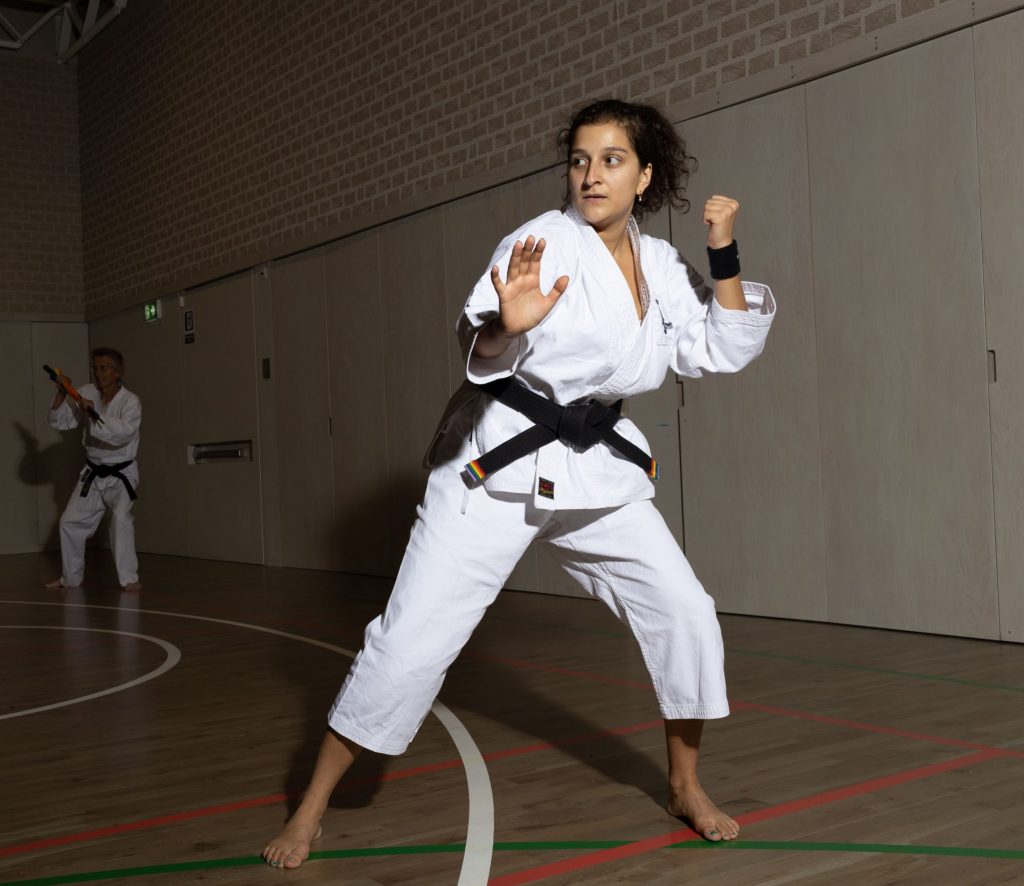 Sensei Ofelia (she/her) started training at SOAS in 2015.
She was awarded her black belt in 2019 just after co-founding the Camden club and gained her 2nd Dan (second-level black belt) in December 2022.
In 2020 she was Diversity Representative for Out For Sport, leading the BLM campaign. In the 2021 Out For Sport Awards, she was nominated for the Club Spirit Award. 
In a huge achievement she was elected as Branch Master of the SOAS club at the 2022 BSKF AGM. We are delighted that she remains a key part of our instructing team here at Camden.
Dan Williams (he/him) has been part of the club since day one. He has been instrumental in kicking off our social events including hosting our birthday and pride party) and our being our founding Club Captain. Dan now instructs our online classes.
Chelsea Perrin (She/Her) was voted in as our Club Captain in Jan 2023. Chelsea has also taken over from Alex Ostendorf (she/her) as our Health and Safety Officer.
In 2022 Iris Kohler (she/her) took up the post as our Social Media Manager, keeping our Facebook and Instagram updated.
Rosanna Wan (She/Her) is our current Merchandising person. In 2023 Leonie Zeuner (She/They) was voted in to run our Tik Tok account, with Robin Warren (They/Them) creating our photography and videos.

In 2022 we welcomed Sharon Vickery (she/her) as our VA (virtual assistant), who works on all things related to club admin and was voted in as Treasurer in 2023.
Join the Committee
Club committee is elected at our annual AGM. Everyone is welcome to stand but at blue belt is becomes compulsory.
Please note we pay contractors to help us with copy editing, project management, first aid courses, video editing, and photography. If align with our values and could offer a service contact us at camden@bskf.org.
Thank you
We are really grateful Aidan Deiter (he/him) volunteers as our online MC in lockdown. And kudos to Helen Males (she/her) brings all the brilliant dressing-up costumes and make-up for our Halloween specials. As well as being our first person to grade.
Many thanks go to Sneha Alexander (she/her), who has stepped down as our Founding Treasurer and Club Secretary in 2002. We are immensely grateful for all the work she has done for the club. Sneha and Gunjan have led the way in helping us to get funding.